Denzil Bell started his career in construction before moving into the rail industry through a Morson Training rail programme, completing his protecting workers on track (PWT) in record time.
Identifying his potential as an educator he was encouraged by his TfL training manager to explore using his skills to teach others. After finishing a training apprenticeship he now delivers London Underground training to delegates in Canning Town. We speak with Denzil about his journey from trainee to trainer…
"It's fair to say my disappointment at losing Denzil is far outweighed by the satisfaction of seeing him do well and prosper further. I've also no doubt his experiences will greatly benefit the recruits he trains. As Denzil develops, so does Morson."

– Morson Operations Director at Canning Town, Graham Timbers
Tell us about your journey through the rail industry so far.
"I started when I was 20 years old. I did a traineeship with Waltham Forest College and Morson did all my technical training to qualify me to work on the London Underground with them. We did the whole PTS track induction. I did that for about six weeks and then I came into Morson. Morson was the primary sponsor and then that's when we started doing more of the London Underground side of the job.
The training covered things like small tools and your BTA (Basic Track Awareness), Track Trolley, all those the basic competencies that you need to be working on the Underground. After that, I spoke at length to Sunil Madhavan the Training Mgr and he explained all about the Rail Track Maintenance apprenticeship with Morson. The traineeship was a Level 1 course and the next step in the progression was the Level 2 Apprenticeship. I then applied for that, had the interview, it went well and then I pretty much started from there. I worked for about a month as just a normal Platelayer/Track operative and then I became an apprentice shortly after.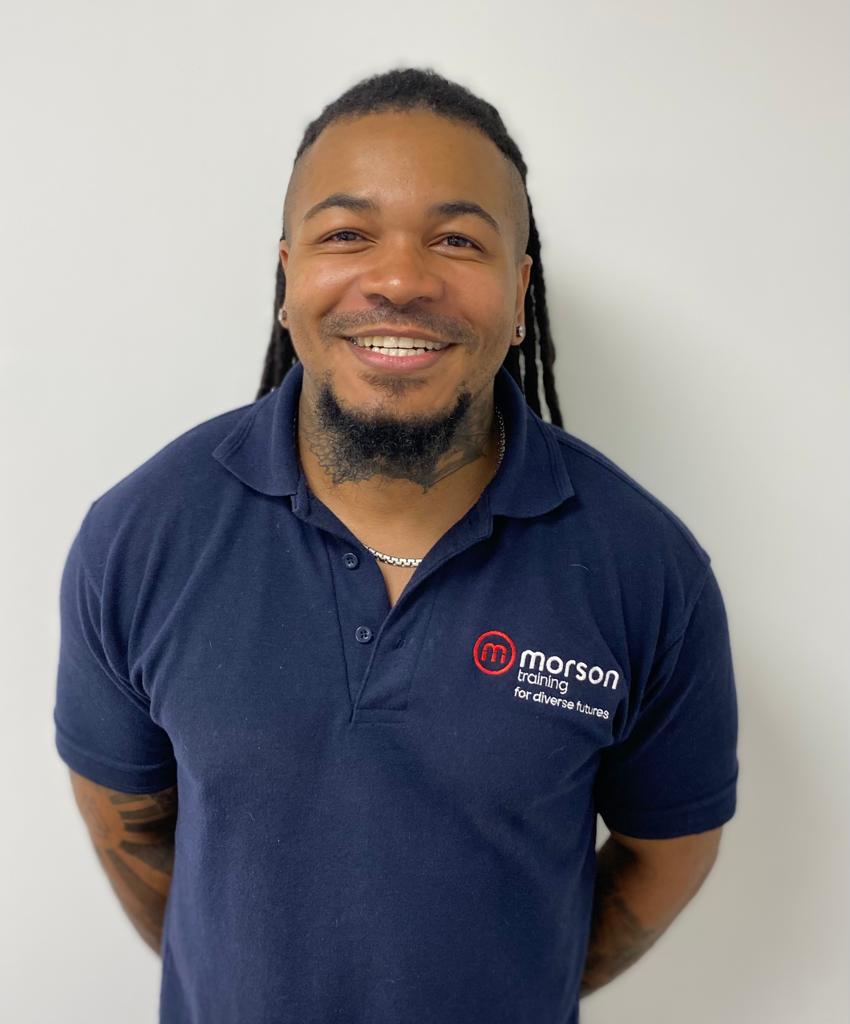 He continued:
During the apprenticeship which I started in 2019, I went through lots of write-ups and got loads of experience being on-site. I think for me, in my journey I was lucky enough to be surrounded at Morson by great people with so much ambition, and that helped me focus on my vision of what I wanted to achieve. They all took a bit of a liking to me and pretty much took me under their wing which is a great feeling to have, it was my family away from home. They showed me as much as they could with the time I had there, which paid off a lot because then I was put forward for my PWT (Protecting Workers on Track) within the first seven months.
Just before my 22nd birthday, I became a PWT, and then I was utilised for the job, this is something I am incredibly proud of and I believe I am the youngest PWT in Morson history. I was part of so many different projects, and I know they wanted me to experience as much as I could as a PWT, again Morson trusted in me and my ability and put me in the environment in which I could develop my trade. I did a lot of different positions and a lot of different works, including price work and others. I learned a lot in such a short space of time"
Where do you see yourself with Morson going forward?
"I'm currently delivering LU training at Morson`s Canning Town TfL training centre 3 days a week as well as working on track myself, going forwards, I'd like to become a full-time trainer with Morson. Eventually, I would like to hold all the competencies and deliver the same level of courses as my peers. There isn't a limit to where I want to be, my mindset is as high as I can."
What first got you interested in rail?
"My background before the rail was construction. I'm very used to working on sites with that type of environment. The rail environment looked to be something very similar to what I was used to working in construction and I thought it will take a bit more skill and a bit more hard work, but the prospects for me looked greater in the Rail sector. It was something that I thought would suit my lifestyle perfectly."
How did you find out about the opportunities available at Morson?
"I was asking about and Morson would send out emails about opportunities they had coming up and courses they offer. Sometimes PWTs would come to the site and would have a toolbox talk, explaining the different competencies that each site needs which I thought was brilliant, a company that is willing to go the extra mile to help others. I put myself in the right place and Morson saw something in me which was why I was chosen for the apprenticeship"
Favourite aspects of your role as a trainer – any standout experiences/moments?
"Helping people. I get a lot of pleasure out of people being so grateful that they've come in and they've passed, especially when they were a little nervous at the beginning. I enjoy those interactions a lot. I meet a wide variety of people from all walks of life and all different companies. I like generally just helping people progress with where they want to be in their career and their life, I suppose seeing and helping people achieve their own goals in a way achieves mine"
Operations Director at Canning Town, Graham Timbers, added:
When the opportunity arose to join our Apprenticeship scheme I was very pleased Denzil applied. Denzil thrived in the track reconditioning work, this area of work is hard but Denzil appeared to delight in the rewards of work done well and the comradery of his colleagues. He was quick to pick our emphasis on safety, methodical teamwork and the potential career opportunities that lay in front of him.
It was therefore a no-brainer to put Denzil forward for his PWT training at a record early stage, having already shown us the attributes we look for in this role. It was no surprise to me when our TfL training manager had a discussion with Denzil about the possibilities of working within the training environment. It's fair to say my disappointment at losing Denzil is far outweighed by the satisfaction of seeing him do well and prosper further. I've also no doubt his experiences will greatly benefit the recruits he trains. As Denzil develops, so does Morson.
Regional Training Director Sunil at Morson Training TFL also said:
"Denzil always stood out as a natural leader in his apprenticeship cohort and was a mentor to a number of his peers. His work always competed to a very high standard and it was clear he had a bright future. At Morson Training, we are always looking for our future trainers to support the ongoing work of the wider Morson Group and we are pleased to be supporting Denzil on the next part of his journey with Morson."